In the last few months, many folks (my wife included) have been missing their pool-time and, even more so, the after-swim sauna. Me? I'd rather jump in the cold ocean than sit in a small room and sweat. Each to their own, though. And, to help out all of you who need a good sweat, here are the best home saunas for 2020. You can read about our unique research process here.
NB: Most of my top picks for home saunas are infrared saunas. This is because infrared saunas are far more energy efficient than gas or wood fired saunas.
Overall Winner
Below, we offer our top overall pick for an eco-friendly sauna. If you want more detail, including technical specifications, scroll down for more extensive reviews.
Best overall eco-friendly sauna – Scandia Eco Sauna
Leaf Score:
Scandia make LEED qualifying eco-friendly saunas using recycled wood and sustainably sourced new wood. They have a heap of eco-credentials and offer off-the-rack options and flexibility in design, in case you need a truly unique sauna for your home. These saunas are easy to install and simple to repair, compared to many pre-cut saunas.
---
The best eco-friendly saunas – in depth reviews
Scandia Eco Sauna (Overall Winner)
Leaf Score:
Highlight: LEED qualifying eco-friendly customizable saunas made partly with recycled wood from a well-respected, longstanding sauna manufacturer.
Scandia Eco Sauna is a fantastic option for an environmentally responsible home sauna installation. These beautiful saunas are made partly with recycled wood, helping to reduce the use of new-growth lumber by 70%.
Scandia's Eco Sauna uses 100% recycled medium-density fiberboard overlaid with Grade A Clear Western Red Cedar. The result is a traditional looking sauna with all the style but a much lower environmental impact.
These saunas are easy to install and simple to repair, compared to many pre-cut saunas. The full upper and lower sauna benches are made of Grade A clear cedar, i.e. cedar with few to no knots. The saunas come with removable Tru-Tile vinyl sauna floor inserts or, the more eco-friendly option, cedar duckboard, but no full floor (you'll have to provide a waterproof floor yourself, i.e. concrete, tile, or stone). There's a standard 28 inch insulated sauna door with window, and a 100% stainless steel sauna heater with controls. The heater can handle 208 or 240 Volts and there's a sauna heater guardrail and thermometer.
Scandia also throw in a wooden sauna bucket and ladle, as well as a sauna light. And the whole thing is sealed with an aluminum foil vapor barrier.
The Scandia Eco Sauna meets certain LEED credit requirements, including MR4.2 for recycled content, MR 6 for rapidly renewable materials, and EQ 4.1 for low-emitting materials. So, if you're designing a home or business with LEED certification in mind, this might well be the sauna for you.
Scandia offer custom sauna designs to fit your space, all of which are based on their Modular Home Sauna Kit with a 2 x 6 Log Wall and Electric Heater. Prices range from $5,830.50 to $13,400.00. The complete Modular Home Sauna Kit is a free-standing structure that can be placed in almost any room or covered space. You'll need your own waterproof flooring though.
The saunas are made with 2 x 6 tongue in groove Tight Knot Western Red Cedar cut to specification. Scandia recommend a minimum of one foot of clearance all around the sauna for proper installation, so take this into account when giving them your room measurements.
The saunas are shipped in a large crate via liftgate truck to the lower 48 states only.
---
Influence Sauna
Leaf Score:
Highlight: FSC certified Grade A western red cedar saunas made without toxic glues or finishes, and RoHS compliant.
Influence Sauna are serious about eco-friendly saunas. The Full Spectrum Infrared Sauna is available in sizes to fit 2 people, 2-3 people, and 3-4 people and is made with high-quality materials and a great deal of care.
This sauna company was founded by Robyn Openshaw, a health researcher and author and perhaps best known as the GreenSmoothieGirl. After Openshaw became interested in creating an eco-friendly, safe, and non-toxic sauna, she partnered with a manufacturer with more than 45 years of experiencing building quality saunas.
The resulting company, Influence Sauna, is committed to offering high-quality saunas that are genuinely affordable, with a mission to bring the benefits of saunas to more people. All of their saunas are rigorously tested and third-party tested and certified. Indeed, the manufacturer of Influence Sauna has a whole roster of impressive certifications.
Influence Sauna use exclusively eco-certified Grade A Western Canadian Red Cedar and are very opinionated about how this is the only wood that should be used for saunas. Their claim is that white woods allow mold growth and can harbor and release toxic substances while cedar is naturally antimicrobial. So, even though hemlock, aspen, poplar, and other white woods are prized for having fewer irritants initially, Influence Sauna note that these woods can accumulate toxic mold and other issues with long-term use.
Other companies (TheraSauna, for instance) use aspen and hemlock precisely because they're concerned over the potential irritant effect of cedar. While there are some concerns over the possible health effects of certain types of wood, it is hard to know how serious the risks are with regard to operating a sauna. Most irritant effects are going to be seen at the woodworking stage, when sawdust can be inhaled or come in contact with skin, rather than once the product is finished and installed. The bigger risks are more likely to come from the use of glues and finishes containing volatile organic compounds, as well as plastic components, and poor electronics.
Influence Sauna don't use any toxic glues or other chemicals when making their saunas and the cedar is naturally dried and kiln dried for two days to prevent warping and cracking while preserving the wood's natural properties. Instead of glues, buckles, clips, or potentially unsafe magnets, the saunas are put together in a traditional Finnish way, using screws and good carpentry to create the desired tight seal.
They also use advanced Spectrum+ heaters with full-spectrum infrared rays for serious heating potential. These heaters can bring your sauna up to 170 degrees Fahrenheit and have one of the fastest heating times on the market. These heaters are non-toxic and are listed for safety by the Underwriters Laboratories.
The saunas are easy to assemble (and disassemble and reassemble), requiring no special wiring, plumbing, or ventilation, and no special tools. Influence Sauna also use proprietary shielding to lower EMF and ELF radiation inside the sauna. They test their saunas using Gigahertz Solutions NFA-1000 and route their cables in such a way as to keep radiation low.
The saunas have Bluetooth controls and ergonomic backrests and ergonomic reversible bench made from FSC certified wood. Indeed, all of the cedar used for these saunas is FSC certified and the saunas are CE, Intertek listed, c UL US listed, ISO, PSE, RoHS compliant, and TUV Rheinland Certified.
Influence Saunas offer a generous and industry-leading 10-year warranty. This covers the entire sauna, including controls, electrical, and wood (the lighting remote is covered by a 1-year accessory warranty). For saunas used in a commercial setting, the warranty is good for 5 years. As for the heaters, these are backed by an unconditional lifetime warranty!
---
Eco-Tech Saunas Horizon Purity Series
Leaf Score:
Highlight: Beautifully designed, eco-friendly saunas made in Canada from cedar and poplar without toxic glues, dyes, or finishes.
Eco-Tech Saunas offer DIY sauna kits and modular saunas that can be shipped across Canada and the US. They're based in Ontario, Canada, and use a variety of types of wood and other materials to make their saunas. My pick of the bunch is the Horizon Purity sauna series, which gets a 5/5 leaf score for being a far infrared sauna series made with western red cedar and American poplar that are treated with non-harmful substances.
The company describes the Horizon Purity saunas as 'one of the purest and non off-gassing' saunas on the market. They don't use synthetic glues, dyes, or finishing sprays; the interior has stainless steel grills and housing; and they use solid, medical grade ceramic heaters. There's no plywood, and the Horizon Purity saunas come with a full poplar floor base and/or cedar floor insert and a bronze tempered glass windowed door with etched logo.
You can choose to add on a Eurolight Exterior Canopy, and the whole sauna fully disassembles for light weight maneuverability. The sauna includes a one tier bench with ergonomic backrests that double as emitter guards. There's an interior light with built-in ventilation and a sound system with Bluetooth, FM radio, and MP3 capability.
Eco-Tech Saunas offer a Limited 5 year replacement warranty on parts and limited lifetime warranty on emitters. The saunas meet Canadian, USA, and CE Safety Requirements.
Currently, you can choose between two sizes: 4' x 4' and 4' x 5'. Prices range from $5,500 for the 4' x 4', 1200 W, 120 V Econo Series (currently on sale for $4,700!) to more than $8,000 for the larger, higher powered, 1800 W option made with poplar.
---
Radiant Sauna
Leaf Score:
Highlight: Wide range of at-home saunas, including the cedar elite premium made with 100% Grade A reforested Canadian cedar with RoHS and ISO 9001 certification.
Radiant Sauna offer a number of models ranging from 2-person saunas to 6-person saunas, typically made with hemlock or cedar. Their saunas are backed by CE, CETL, RoHS and ISO 9001 certifications.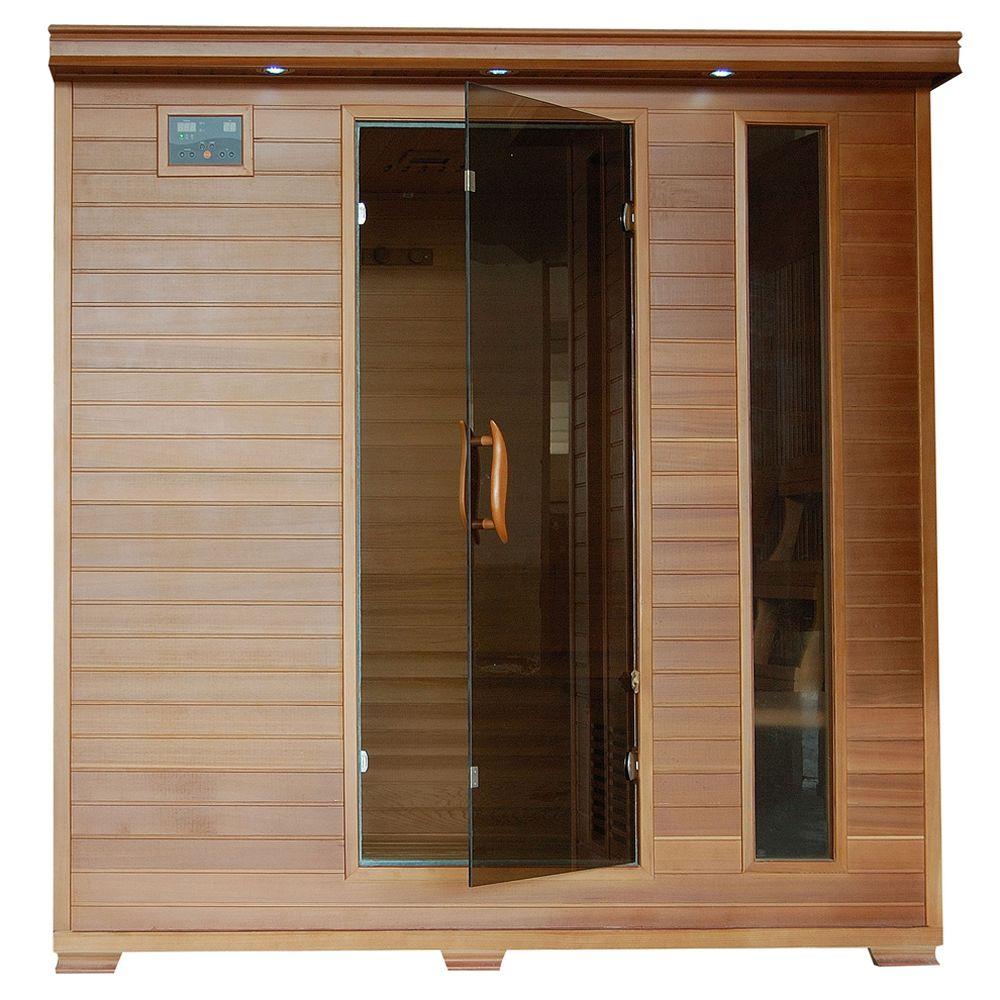 The 2-person hemlock infrared sauna has 6 carbon heaters, dual touch control panel, LED control panel, built-in speakers, a magazine rack, and a glass door and is one of the most affordable high-quality at-home saunas at around $1600 (View Price on Home Depot). It measures 35 inches deep inside, 67 inches high, and 44.5 inches wide. The external measurements are 39.25 x 75 x 47.75 inches. There's an adjustable roof vent, built-in bench, built-in lighting, and a built-in sound system. The maximum temperature is 141 Fahrenheit (60.56 Celsius) and the sauna works with a standard 120 V outlet.
Radiant Sauna also offer a 3-person hemlock infrared sauna and a 4-person hemlock sauna, both with 8 carbon heaters, and a 6-person cedar sauna with 10 carbon heaters.
My pick of the bunch, though, is the Radiant Sauna 3-4-person cedar elite premium sauna, which costs around $2,670 (View Price on Home Depot). It is made from 100% Grade A reforested Canadian cedar, has Infrawave technology to ensure energy-efficient operation and low EMF, and has an 8-color light and interior light.
This sauna has a contemporary design, Bluetooth touchscreen controls, thicker heat-retaining walls built with tongue and groove joinery, an easy clasp assembly system, tinted safety glass, heavy-duty door hinges, portable ergonomic back rests, and an ionizer. It measures 61.61 x 71.25 x 42 inches inside, and 50.4 x 76 x 50.4 outside.
Radiant Sauna offer a 7-year Limited Warranty, 5-year heating and electronics warranty, and a 1-year radio warranty.
---
Therasauna
Leaf Score:
Highlight: US-made hemlock and aspen saunas in a variety of sizes and designs and with efficient infrared ceramic heaters.
Therasauna make a variety of pre-fab saunas ranging from the Thera Classic 1-Person (View Price on Home Depot) to the 4-person model. These far infrared saunas use TheraMitter ceramic heaters and are made predominantly of hemlock and aspen wood, with the company avoiding the use of cedar due to concerns over adverse health effects (see my review of Influence Sauna above for more on this). They don't, however, make any claims about the use of non-toxic glues or finishes on their saunas, hence the 2 leaves.
The TheraMitter ceramic heaters have a 96% radiant efficiency rating and are controlled using an updated, easy to use four button control panel that allows you to manage the time, temperature, and interior and exterior lights. The maximum temperature is 140 Fahrenheit (60 Celsius).
The Classic 1-person sauna has a 1-person straight bench, measures 35.5 x 35.5 x 75 inches, has a 5-inch overhang with two external lights, a roof vent, and works with a 120 Volt (20 Amp) outlet. The sauna uses six TheraMitter heaters, has an FM radio/MP3 auxiliary with two speakers, and has an interior reading light. There's a smoke glass door with two side windows to help the sauna feel spacious, and the sauna includes a 7-color chromo therapy light.
TheraSauna offer a 1-year warranty on labor, a 3-year warranty on the controls (prorated), and a lifetime warranty on the TheraMitters with a $50 handling fee per incident. The company is US-based and manufactures all of their saunas in Dewitt, Iowa.
The 1-person Therasauna costs around $2,995 currently from Home Depot, making it an excellent affordable option for an eco-friendly sauna. The Therasauna 2-person plus infrared sauna is made with aspen and has TouchView Control but uses the same TheraMitter heaters (just more of them). This one costs $5995 from Home Depot currently. The 4-person version is the same, just bigger, and costs $6295 from Home Depot.
There's also a 3-person corner sauna with TouchView Control, made of aspen, and with 12 TheraMitter heaters. This costs $6595 from Home Depot. And finally, a 4-person face-to-face infrared sauna made with aspen and with TouchView Control will cost you around $6695 from Home Depot.
---
HL400K SunRay Sequoia 4-Person Cedar Infrared Sauna
Leaf Score:
Highlight: Canadian cedar infrared sauna with a 10-year warranty at a very affordable price.
The HL400K SunRay Sequoia 4-Person Cedar Infrared Sauna is made using Canadian cedar and 10 carbon nano heaters for even heat distribution and very low EMF (View Price on Home Depot). This sauna includes movable ergonomic backrests and costs a very affordable $1995.
The Sequoia also includes 7-color chromatherapy lighting, oxygen ionization system, recessed interior and exterior lighting, FM radio with CD and MP3, and convenient cup holders. It is easy to assemble and measures 69 x 53 x 75 inches at the exterior and 51 x 71 x 64 inches inside, making it a very spacious and comfortable 4-person sauna.
The SunRay is a sturdy sauna, weighing some 450 lbs and made with tongue and groove construction. It has a 10-year structural warranty, guaranteed against defects in materials and workmanship for a full 10 years. The sauna is ETL/CSA certified and meets all US and Canadian electrical safety standards, working with a standard 120 V outlet and 20 Amp plug.