Does the current crisis mean you're hunkered down and trying your best not to binge-watch every show ever made? Now's the perfect time to open a good book and get caught up on that other crisis, climate change. Here are 5 books to read to get up to speed on global warming.
Table of Contents
The best overall primer on global warming and why it matters
From zoonoses and their connection to climate change to comprehensive plans for how to get ourselves out of this mess, there's something for everyone on this list, with a couple of bonus fiction titles if you need an escape from your current reality.
1
The Uninhabitable Earth: Life After Warming
Highlights: One of our favorite books on the subject, David Wallace-Wells masterfully brings you up to speed on the climate crisis itself while presenting a sense of urgency and purpose to make it better.
Affiliate disclosure
Author: David Wallace-Wells
Published in 2019 by Penguin Random House.
If you don't read any other book on this list, read this one. In barely 300 pages of elegant, smart prose, David Wallace-Wells can get you up to speed on the climate crisis, scare you silly, and imbue you with a sense of real urgency and purpose to make change for the better. Wallace-Wells carefully lays out the effects of climate change that we're already living with and what the future looks like for our kids and the generations to come.
Find a Solar Energy partner near you.
Like Silent Spring and An Inconvenient Truth, The Uninhabitable Earth: Life After Warming marks a moment in our history. Wallace-Wells outlines with stark clarity how climate change has already had catastrophic consequences, with sea levels rising and wildfires raging out of control, then shows how we're facing looming food shortages, mass forced migration of climate refugees, and other crises to come, if we don't seize the solutions we already know can work.
Forceful, profound, and also imaginative and downright funny in places, this is no dry science tome. The Uninhabitable Earth: Life After Warming is a Number One New York Times Bestseller for a reason: it will raise your heart rate, dash any lazy optimism you were clinging onto, and galvanize you to take action.
2
The Story of More: How We Got to Climate Change & Where to Go from Here
Highlights: An incredibly readable and illuminating book that takes a look at the ways our daily habits have led us to the crises we're currently facing regarding global warming.
Affiliate disclosure
Author: Hope Jahren
Published in 2020 by Vintage Books.
The Story of More is a highly readable, illuminating look at how our daily habits have led us to the crisis we're currently facing (arguably the crises). Conversational right from the get go, this book looks at the science of modern agriculture, the ubiquity of high fructose corn syrup, where we've gone wrong with transport and our obsession with cars, unsustainable power generation, and other things we take for granted, all while laying out the consequence for greenhouse gas emissions and planetary warming.
Hope Jahren is an award-winning scientist (and author of Lab Girl) who elegantly weaves in hard science and personal narrative to keep things lively and informative. She describes the likely consequences of climate change, such as superstorms and even higher sea levels, without creating paralyzing fear, denial, or other unhelpful reactions.
Instead, what you get with The Story of More is a quirky examination of consumption that helps us question entrenched habits, and all while poking fun at absolutists, purists, and ideologues. Written in short chunks that are well researched but not overly referenced or academic, this is a great book for if you struggle to find more than ten minutes at a time to read without interruption.
To my mind far better than Lab Girl, Hope Jahren's latest book is built on more than a decade of teaching courses on climate change. Jahren knows this material inside and out and helps encourage the reader to connect the dots and examine our connections to this planet we call home.
3
Drawdown: The Most Comprehensive Plan Ever Proposed to Reverse Global Warming
Highlights: Written by an environmentalist and journalist, Paul Hawken presents bold but achievable strategies that are economically sound for an approach to addressing the ongoing climate crisis.
Affiliate disclosure
Author: Paul Hawken
Published in 2017 by Penguin Random House.
Paul Hawken is an environmentalist, journalist, and entrepreneur who has written, co-authored, or edited seven books, one of which, Natural Capitalism, was said by President Bill Clinton to be one of the five most important books in the world. It seems only fair then that Hawken's latest, Drawdown, make this top 5 list of books to read to get up to speed on climate change.
Drawdown, edited by Hawken, offers 100 of the most substantive solutions to the climate crisis we find ourselves in. These are based on sound research about what we need to do to reverse global warming, with input from an international coalition of policy makers, scientists, and other professionals.
This book offers bold but achievable strategies that are economically sound. Given the economic stimulus currently needed, these strategies are even more timely than when Drawdown was published in 2017. Some solutions are recognizable, such as divesting from fossil fuels and switching to cleaner energy, while others are yet to enter the mainstream, such as carbon sequestration through carefully planned land use.
What Hawken's book also does is to show how many of the answers to global warming also help address other problems we're struggling with, such as returning land governance to Indigenous peoples, and educating girls and women worldwide.
The authors in Drawdown take care to present a credible path to preventing further warming, providing cause for cautious optimism (which you might need after reading The Uninhabitable Earth). Though three years old now, this book remains one of the most comprehensive, and accessible, books modelling climate solutions we can choose to enact now.
4
The Sixth Extinction: An Unnatural History
Highlights: Honing in specifically, this book by Elizabeth Kolbert focuses primarily on the impact of climate change on biodiversity and the associated temperature and CO2 shifts.
Affiliate disclosure
Author: Elizabeth Kolbert
Published by Henry Holt and Company in 2014.
In her thoughtful, provoking book, The Sixth Extinction, Elizabeth Kolbert looks at the impact of climate change on biodiversity. As temperatures rise and CO2 levels increase year on year, the loss of species continues apace and, Kolbert argues, we're in the midst of a modern, man-made, sixth extinction.
This is a topic Kolbert first tackled in her 2006 book Field Notes from a Catastrophe, though her 2014 follow-up has gained more attention, winning a Pulitzer Prize and a National Book Critics Circle Award for General Nonfiction.
Already looking like a contemporary classic, The Sixth Extinction is an investigation into the Earth's future, written in a compelling, engrossing style. Written in the 13 episodes, this book digs into the lives of the Sumatran rhino, the Maui black-faced honeycreeper, and the gold frogs of Panama. Kolbert guides readers through the five mass-extinctions that have already occurred in the last half billion years, bringing us slowly to the realization that instead of an asteroid or major volcanic eruption, humans are the cause of the sixth extinction.
5
Rising: Dispatches from the New American Shore
Highlights: Focusing on the impact of high tides and huge superstorms, Elizabeth Rush takes a look at communities on the margins of the country and how they may be – and already are – impacted by rising waters.
Affiliate disclosure
Author: Elizabeth Rush
Published by Milkweed Editions, 2018.
Published in 2018, Rising is at once a warning and an elegy. Elizabeth Rush looks at the disappearing edges of the United States, examining the impact of high tides and huge superstorms. She takes readers to communities on the margins, both literally and figuratively, where those with lower incomes are most at risk of flooding and becoming climate refugees in their own country.
What sets this book apart from a lot of other books on climate change is both its immediacy and its lifting up of voices often ignored in the discussion: From Native Americans desperately clinging to their way of life on a disappearing Isle de Jean Charles, to activists in a community established by formerly enslaved African Americans.
Rush's prose is lyrical but exacting, with original reporting, firsthand testimonials, and hard questions about how to let go of the places we call home. Rather than asking readers to imagine the effects of global warming in a distant future, Rush offers a stark, haunting account of communities already lost or suffering from rising sea levels, more frequent hurricanes, and other immediate impacts of climate change.
---
Other great reads on global warming
Hungry for more on climate change and global warming? Here are some other books to check out, and a quick shoutout out to the incredible book that really got me thinking about climate change decades ago, The End of Nature by Bill McKibben (published in 1989).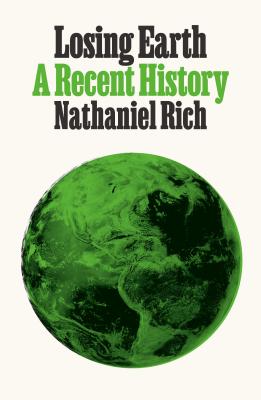 Losing Earth: A Recent History by Nathaniel Rich
A shocking examination of the decade (1979-1989) where scientists and the public looked set to tackle climate change only to be thwarted by a coordinated corporate and political campaign to cast doubt on global warming. If you've ever wondered how we got into and stayed in this mess, this book is for you.
---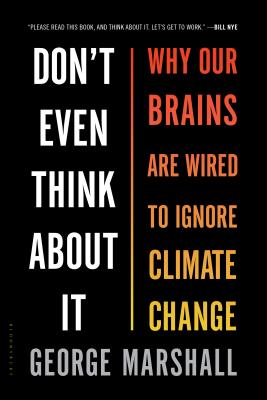 Don't Even Think About It: Why Our Brains Are Wired to Ignore Climate Change by George Marshall
If you're a science communicator, environmental activist, or just someone who is interested in why it's sometimes so hard to talk about climate change in a meaningful way, this book offers excellent insights. Marshall looks at how we make choices to ignore reality or to act, explaining why climate change is such a complex challenge (lack of clear enemy, lack of simple solution, etc.), then arguing for greater collaboration between scientific and emotional narratives.
---
The Two-Mile Time Machine: Ice Cores, Abrupt Climate Change, and Our Future by Richard Alley
Part memoir, part scientific thriller, this book takes a rather complicated environmental science project (examining ice cores) and makes it accessible to the lay reader. If you've ever wondered how climate scientists know so much about the history of the Earth's climate, The Two-Mile Time Machine can take you from glacials to interglacials to the Anthropocene with ease.
---
The Balance of Nature: Ecology's Enduring Myth by John Kricher
A look at the idea of dynamic equilibrium, The Balance of Nature is written by an ecologist and professor for a lay readership. The book argues against the idea of nature as having a 'true' balance and instead promotes a framework from ecology that incorporates adaptivity and resilience, change and a degree of uncertainty. A great choice for anyone interested in developing a sound underpinning for policymaking around climate change.
---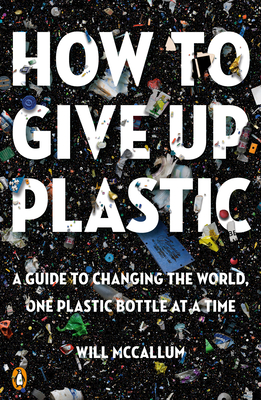 How to Give Up Plastic: A Guide to Changing the World, One Plastic Bottle at a Time by Will McCallum
Definitely a book after our own hearts here at Leaf Score, How to Give Up Plastic offers a look at the problem of plastic and the need for change. Thankfully, that's not all the author does, though. McCallum offers practical, albeit ambitious, steps to wean ourselves off plastic. Consider this a self-help book for the planet.
---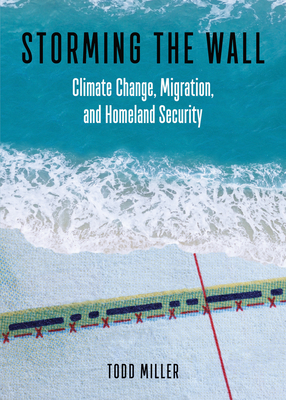 Storming the Wall: Climate Change, Migration, and Homeland Security by Todd Miller
Walls and borders are rarely out of the news these days, but a lot of the conversation ignores the underlying issue of mass migration due to climate change. The number of climate refugees worldwide is on the rise, along with temperatures and sea levels that make 'home' a far harder place to live than ever before. Storming the Wall offers a stark picture of the economic and political implications of climate change and decries the increasing protectionism and isolationism of the countries contributing the most to global warming while shutting out those bearing the brunt of climate change.
---
A Kid's Guide to Climate Change and Global Warming by Jack L. Roberts
It's never too early to start talking about climate change and how our individual choices affect the planet and other people. If you're not sure how to kick off that conversation, though, check out this book from a former Scholastic magazine editor. Ideal for readers aged 9-14, this kid's guide to climate change is visually engaging and offers a lot of easy to understand answers to the questions kids ask most often (and that parents might not feel fully equipped to handle!). instead of instilling fear and anxiety in kids, this book does a great job of encouraging engagement and hope for the future, if we all, young and old, do our part.
---
Close
Find a Solar Energy partner near you.
Climate Change Fiction
The author of Don't Even Think About It (see above) argues that to encourage more people to take action on climate change we need emotional, compelling narratives interwoven with science. So, here are a few fiction books that focus on climate change and global warming.
Salvage the Bones by Jesmyn Ward
Telling the story of the Batiste family, under threat of powerful hurricanes and intense heat, Jesmyn Ward brings to bear her personal experience living through Hurricane Katrina on the Mississippi Gulf Coast. Told through the eyes of a 15-year-old, this tale brings home the reality of immense personal and societal loss already occurring in America and beyond.
---
New York 2140 by Kim Stanley Robinson
Kim Stanley Robinson is a fixture of futuristic fiction, so it's no surprise the author has already tackled the issue of climate change. In New York 2140, Robinson takes us a hundred years into the future, so we can see what unchecked climate change may well do to life on Earth.